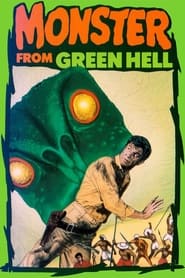 Monster from Green Hell
The mammoth monster that terrified the Earth! Too awesome to describe! Too terrifying to escape! Too powerful to stop!
Release: May. 17, 1957
Duration: 71 min
Rated: Approved
Synopsis
A test rocket carrying wasps to outer space, to study the effects on them of weightlessness and radiations, crashes out of control back to Earth, into the jungles of Africa. The two astrobiologists in charge of the test mount an expedition to the Darkest Continent to retrieve their experiment, only to find the wasps have grown to giant size which are panicking all forms of life as they quest for food.
Original title
Monster from Green Hell
IMDb Rating3.61 297 votes
TMDb Rating3.66727 votes
Creator



Cast